Joomla Services
Joomla Services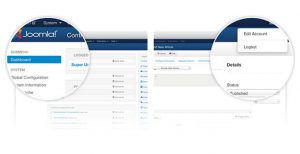 What is Joomla?
Firstly, What is Joomla? Joomla is one of the most powerful CMS Systems (Content management system) this platform allows content management to become a breeze for clients and can bring out a rich functionality and ease to your website.
Why would i want a Joomla website?
Joomla services offer you easy to manage site for all your content needs, gifting you with a sleek website design and back end training. if your looking for a website to do any off the following hen maybe Joomla is for you:
eCommerce Websites
Blog websites
Portfolio website
informative website(business or academic)
Promotional websites.
Do you need your website redesigned
Is your website more than 5 years Old?
Does your website communicate well across multiple devices, computers, operating systems such as IOS/Android and browsers?
Have you ever surveyed your websites ease of use?
Are you able to update your website on demand?
Answering no to any of the above questions is not an option with Polaris Design Ltd. Our solutions aim to place your website, at the center of your digital marketing solutions.
Polaris Design has a whole range of digital solutions to meet the needs of our clients. Whether you need a full CMS E-Commerce website or simply require a company logo to better promote your business, we can assist you.
We are passionate about design, form and function, but we do not lose sight of business aims: better communication and improved customer relationships.
Any more questions then we will be more than happy to assist you , we can also send out a welcome package that includes any frequent Q&A's that clients have asked us, moving forward we can then set up a meeting/phone call.
Why does Polaris Design use Joomla services?
We like to give the client ease of use and maintainability, making sure you can mange your content as simple and as quickly as possible. We have had many years of Joomla Skills that we can inject into your website. The skill set used within Joomla websites are to enable end user compatibility , a few skills below are:
Theme Development
Admin/Plugin setup
Custom Functionality
SEO optimization
Back-end Design and editing
Security
Let us help you on getting you set up with the right website! contact us today!